Isolation Bearings and Concrete Floating Floors, Royal College Of Music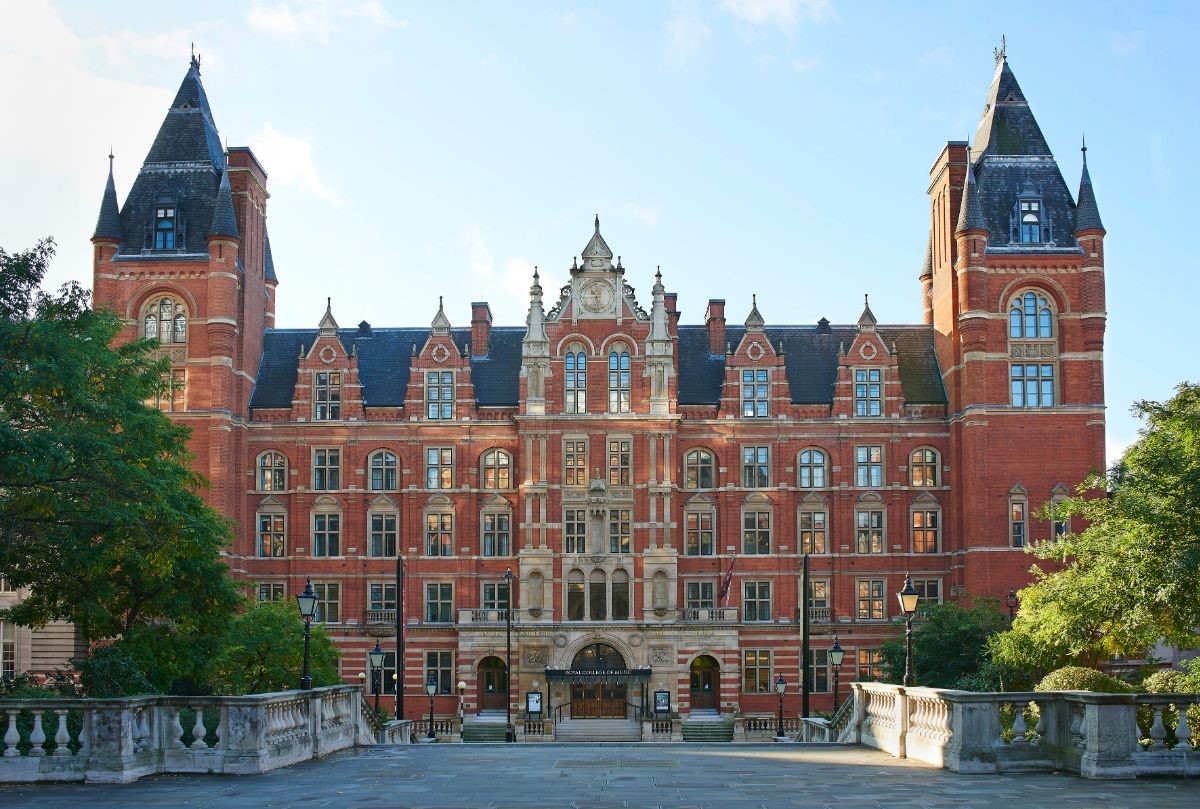 Above: Royal College of Music Prince Consort Road (Credit: Saul Peckham)
Situated between the vibrant Imperial College of London and the illustrious Royal Albert Hall, the Royal College of Music can be considered the pinnacle of past, present and future music within the capital. It truly was a pleasure to be involved with this project.
The £40 million pound "More Music: Reimagining the Royal College of Music" Campaign aims to increase access to music and strengthen facilities. The building development will enhance student and visitor experience. Floating floors were required in the new Performance Hall to create separate box-in-box structures providing areas for undisturbed musical performances. With high ceilings, varying levels and heavy floor finishing zones, the floating floor and bearing designs had to be carefully coordinated with the design team and in particular the structural engineers.
Above: HRH The Prince of Wales visiting the Performance Hall during construction (Credit: Chris Christodoulou)
Above: As built sectional detail across perimeter columns
The heavy perimeter walls and ceiling were constructed on 12Hz natural rubber bearings which surround the main floating floor. This helped to spread the mass across the structural floor rather than having large point loads. At the head of these walls were bespoke design acoustic snubbers which would engage in the unlikely scenario of the walls moving laterally ±3mm. This satisfied both the acoustic and structural requirements.
Above: Placement of bearings under perimeter steels in Performance Space A
Mason UK's involvement in the Royal College of Music's More Music building development brought together many different elements of design. Being directly involved within the design process enabled the best possible solution to be put forward; this is especially important in scenarios where a typical construction solution is not suitable.
We look forward to working on similar projects in the future.
Above: Finished RCM Performance Hall credit Phil Rowley 2020
See below for further construction photos.
Construction Photographs
Products Related to Article
Floating floors systems are used for many purposes, predominantly to prevent noise passing through the floor but also to isolate against vibration and impact
Elastomeric bearings can be made from a variety of materials and are very effective against most medium to high frequency vibration sources. The material choice depends on the environment, but natural rubber is the most common choice due to its low dynamic stiffness.